Your Theft Prevention Options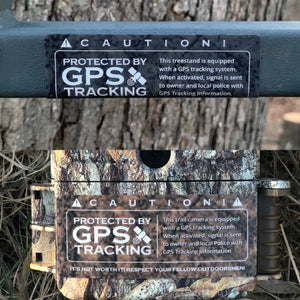 1. Just TrailCam or TreeStand SHIELD
Get just the decals! It's the most affordable way to prevent theft. Because many people buy both the tracker and the SHIELDs you can save money and have the same level of deterrence! Thieves won't know which is which.
2. GPS Tracker Bundle w/ SHIELDs
Get our Theft Stopper Bundle! Get the lightest, longest lasting, most affordable GPS tracker on the market along with our TrailCam SHIELDS. Thieves won't stand a chance!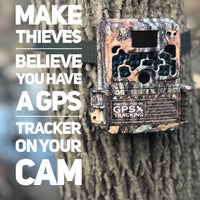 USE WITH GPS TRACKER OR AS STAND ALONE DETERRENT
TrailCam SHIELD and TreeStand SHIELD are durable theft prevention decals that make thieves believe your trail cameras and stand has a GPS tracking system inside. It can be used as a stand alone deterrent or in conjunction with an actual GPS tracking device. Because a large portion of TrailCam and TreeStand SHIELD owners use an actual GPS device thieves won't be able to know the difference and will leave your cameras alone!
BuY NOW
Testimonials
We haven't lost a camera yet with a sticker on it. The stickers also seem to last a long time and are great quality

Vision Outdoors
Product is no joke! Definitely works and makes thieve this twice before stealing

Colton C.
Hunting public land and want to use trail cameras? Then you better spend the small amount and get these! 

Hunter F.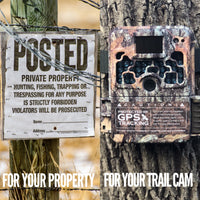 Be the Smartest Hunter in the Woods.
Just like you put up "posted" signs around your property, you should put "posted" signs on your trail camera using TrailCam SHIELD. Outsmart Thieves Today!
BUY NOW