FREE & FAST SHIPPING 
Tired of having your trail cameras stolen?
TrailCam SHIELD is durable outdoor decal that makes thieves believe your trail cameras has a GPS tracking system inside. By warning them of GPS system It gets into their head and makes them believe they could be caught by the police if they were to take your camera. Use in conjunction with an actual GPS tracker or as stand alone deterrent. Because a large portion of our customers use our SHIELDS with an actual GPS device thieves won't know which is being tracked and which isn't! 
Want to learn more about how decals can actually prevent theft? Click
here
!
We have found the lockboxes and cables are nice but what really deters crime is the "fear of getting caught". Our warning decal introduces that fear to would-be thieves by telling them the cameras is being tracked by GPS services and could track the camera if it were to be stolen. This will cause them to think twice and leave your camera alone!
Most trail cam thieves are impulsive and our decal will deter that impulse like nothing else on the market. It is a cost effective defense system that can be coupled with an actual GPS tracking system or used as standalone product to deter theft.
Because a large portion of our customers use our decals with an actual GPS device thieves will have no idea if your camera is actually being tracked or not. 
We have found it's not the security system you have, but the security system the thief thinks you have that reduces theft. TrailCam SHIELD is  the same concept as a "home security" sign in your yard or "NO TRESPASSING" sign on your property. We have watched dozens of thieves go to steal our trail cameras but then change their mind once they see our SHIELDs.
TRAILCAM SHIELD PREVENTS THEFT. PLAIN AND SIMPLE!
Fits on virtually every trail camera on the market! Our research found that the vast majority of trail cameras, regardless of brand or size, always have 3" x 1.2" area suitable for TrailCam SHIELD. 
Specifications of TrailCam SHIELD Decal:
Size:
3" x 1.2" ( w x h ) 
Durability:
9+ Years of Outdoor Use
Adhesive:
HI-TACK Virtually Permanent Adhesive
Temperatures:
Our SHIELDs can withstand temperatures from 
-40°F to 
300°F
Our labels are designed to withstand the hot burning rays of the summer sun, and the cold temperatures of the those January cold fronts. 
Our quality long lasting durable outdoor labels are made with the highest quality components.  These aren't your regular stickers or decals. TrailCam Shield is equipped with durable UV resistant inks, and overlaid with a quality laminate. This is the secret to our outdoor labels' tough composition and unmatched durability.
SHIPPING: 
We ship our products in an envelope through USPS. Shipping is 100% FREE & FAST. 
Return Policy:
100% CUSTOMER SATISFACTION GUARANTEED! Sportsman's Shield stands behind our products completely. If you are not 100% satisfied with TrailCam SHIELD reach out to our customer service representative via our email sportsmansshield@gmail.com and we will refund your money! Buy with confidence! We treat our customers like we would want to be treated. 
Disclaimer: This product is in no way a GPS tracking system but instead is a psychological deterrent to cause thieves to leave your gear alone. If you would like to get an actual GPS tracker get the Theft Prevention Bundles that include the Tracki GPS Tracker. That is a fully functioning GPS tracker! . 
Customer Reviews
08/29/2023
Patrick G.

United States
I recommend this product
Great Camera Deterrent!
I have been using these stickers on my Trail Cameras for a little over two years now and I have yet to have anyone steal one of my cameras. I have had many people pass by and see my cameras and they keep walking. You can even hear them on video after they walk by the camera stating GPS! These cameras are on public ground. I really think it makes people think twice about stealing a Camera. I highly recommend you putting them on all your cameras!
02/20/2023
Levi M.

United States
I recommend this product
Trail cam sticker
I wish I had stock in this product. I live and die by these stickers.
07/02/2022
Paula P.

United States
I recommend this product
A small price for added protection for your trail cams
I put these on all of my trail cams & haven't had one stolen yet. They stay attached year-round, and I highly recommend them. I have had to trim the sides of the stickers to fit some of my trail cams, but otherwise, they are perfect
04/06/2021
Roger N.

United States
I recommend this product
Sportsman Shields
Great product! Trailcam security!!
02/09/2021
Evans, B.

United States
I recommend this product
Trailcam shields
Arrived in time for us to attach them on our trail cameras
09/06/2020
Otis B.

United States
I recommend this product
Keeping the honest people honest
This is my second order of 10 labels. I have 18 trail cameras and all now have one affixed. The label gives that little extra peace of mind, it keeps the honest people honest. All of my cameras also have a printed card inside that reads "CAUTION This is a federally sanctioned wildlife study, theft of or tampering with this equipment is a FELONY (Phone #)" I pass your information to others when camera theft chat comes up. Thanks for the cool product.
08/06/2020
Juan C.

United States
I recommend this product
Awesome
Highly recommend these to deter theft. The quality and feel are fantastic
08/06/2020
Sarah B.

United States
I recommend this product
Heavy duty stickiness!
Very secure attached. I would love to see a smaller size offered though, had to trim to get to somewhat fit the spypoint micros but made it work!
06/15/2020
Victor M.

United States
I recommend this product
TrailCam Shields
Very durable, well made and stuck on good!
06/12/2020
James L.

United States
I recommend this product
So far, so good....!
I do understand the concept of the labels yet I have fastened them to some wooden Book Markers because there is no area on my Camera's large enough to attach them directly tot he Camera's. I placed one on each side of the book marker so it displays while it hangs off camera. I'll attach it with electrical Zip ties.. I haven't placed the Camera's yet as I am waiting for 2 locking cables to arrive by mail to secure the camera's to trees....!
05/08/2020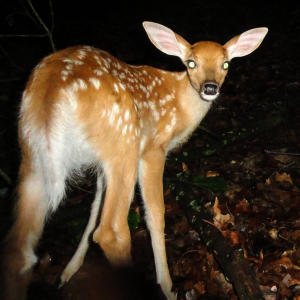 CB
Cindi B.

United States
I recommend this product
Finally!! Peace of mind!
After several of my trail cams have been stolen, I think these will make would be camera thieves think twice about walking off with my cams.
04/02/2020
Will C.

United States
I recommend this product
Cool Product Innovative thinking
the fit finish and over all quality is great and it provides that extra piece of mind.
02/21/2020
Dustin T.

United States
I recommend this product
Cheap way to protect against thieves
This is a awesome, cheap, and affective way to protect your game cameras from thieves. Weather on public or private land our game cams are protected!
02/21/2020
Remington P.

United States
I recommend this product
Best Accessory For Any Trail Camera
You cannot beat the sense of peace you get with this product. Knowing that I have one of these on all of my trail cameras helps me to know that they are less likely to be stolen.
02/21/2020
Red L.

United States
I recommend this product
Great Product
Sportsman Shield are great! Hunting public land and want to use trail cameras? Then you better spend the small amount and get these! It can save your cameras! They stick great and you don't have to worry about them coming off in the weather, they also work on any camera! Simple yet great product!
02/21/2020
Colton C.

United States
I recommend this product
Make thieves think twice!
Product is no joke! Definitely works and makes thieve this twice before stealing. Cams were coming up stolen left and right and after using the shield it's like they think to themselves, "is this a fake sticker or is this camera actually gps, I'm not sure so I better just keep on moving".